Our corporate social responsibility & mission
Honda is proud to celebrate more than 50 years in Canada. We do more than just build and sell cars here. At Honda in Canada, our vision for a brighter future means supporting the communities in which we live while moving towards a greener world, where mobility is open to all.
Join us. Together, we'll get there.
Thank you, Canada!
We recently celebrated two amazing milestones, made possible through the hard work of our Canadian associates and the unwavering support of drivers coast-to-coast: We rolled our nine-millionth vehicle off the line and we sold our five-millionth vehicle to another happy Canadian owner.
Celebrate With Usarrow_drop_up
Our History
The story so far
We planted our Canadian roots back in 1969. Since then, we've immersed ourselves in our communities, developed a rich set of Honda core values and celebrated many firsts. See the route we've taken.
Tour our Milestonesarrow_drop_up
Environment
Driving towards blue skies
At Honda, we have a corporate social responsibility – we call it the Honda CSR – to ensure "Blue Skies for Our Children." Discover all we do for environmental excellence with Honda's sustainability plan.
Dream Bigarrow_drop_up
Manufacturing
Built here, for here
Today, Honda Canada builds our most popular vehicles right here at home. Honda Canada and its family of Honda and Acura dealers employ approximately 19,000 people from coast to coast. Honda is a company on a mission: to bring the power of dreams to our customers.
Meet Our Peoplearrow_drop_up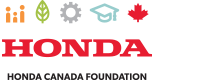 On this road together
One of Honda's core values is being proud to be part of – and giving back to – Canada, where our associates and our customers live, work and play.
See Howarrow_drop_up
Mobility
Destination: freedom
As a company, Honda's objective is to spread joy by accelerating mobility on roads, on water and in the air. From self-driving cars to mobility assist devices, we're exploring the boundaries of what's possible.
Go Furtherarrow_drop_up
Safety
Getting there Safely
We're engineering smarter, safer vehicles with the goal of achieving Honda's vision of a collision-free world.
Buckle Uparrow_drop_up