A Carbon-Neutral Future Awaits
At Honda, we've always been committed to preserving the environment for future generations. Today, we continue to innovate our way toward a 100% zero-emission car lineup in North America by 2040. And, with our Triple Zero approach, we aim to achieve carbon neutrality, resource circulation, and clean energy goals across our business operations by 2050.
Investments That Move Us Forward
Our path to all-electric, zero-emission cars begins by building hybrids at an affordable price close to home. That's why we've invested nearly $1.4 billion in upgrading our award-winning manufacturing plants in Alliston, Ontario. This allows us to introduce new technology, train talented people, and retool the manufacturing systems that will facilitate hybrid output and help us transition to large-scale EV production.
An Environmentally-Conscious
History in the Making
Since opening its doors in Canada, Honda has always seen engineering through an environmentally-conscious lens, pushing the limits of what's possible while keeping the well-being of future generations in mind.

See Timeline
Fusion Energy Is Just Around the Corner
We believe the world is on the brink of a major breakthrough in fusion energy technology – one that promises to yield affordable, stable, and clean energy – which is why we're continuing to search for and invest in promising companies through our global open innovation program.
A Powerful Partnership
As we continue on our quest to further reduce greenhouse gas emissions, we're happy to announce that through our partnership with LG Energy Solution we're building a multi-billion dollar lithium-ion battery manufacturing facility in Ohio that will supply Honda auto plants with all the battery power they need for EV manufacturing in North America.
Developing Alternative Energy Sources
Through extensive research and development, Honda is consistently pushing to find better alternatives to fossil fuels.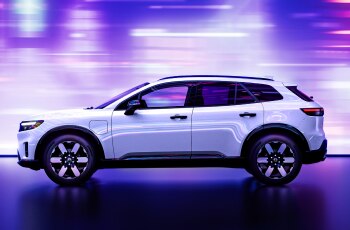 The Next-Gen Ultium Battery
Scheduled to be introduced in 2027, Honda is collaborating with General Motors to co-develop a series of affordable electric vehicles based on a new global architecture using next-generation Ultium battery technology. When all is said and done there will be a total of 30 Honda EV models introduced globally.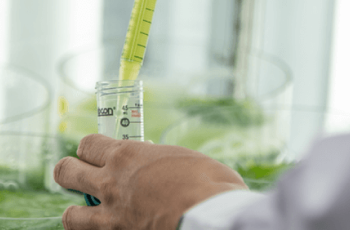 Harnessing the Power of CO2
We are developing technologies to capture CO2 from the atmosphere and convert it into carbon-neutral fuels. For instance, our Honda DREAMO system creates microalgae that can capture CO2 and transform it into food, biofuel, or a bioplastic.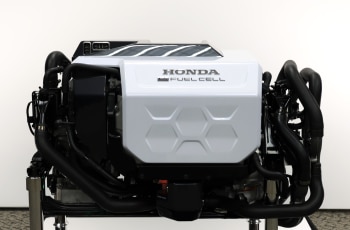 Exploring Hydrogen Solutions
Working toward the realization of a carbon-neutral society, we continue to expand the possibilities of hydrogen energy by developing fuel cell systems for various applications. This includes marina products, commercial trucks, stationary backup power, and circulative renewable energy technologies for space.
The Hybrid to Electric Vehicle Transition
The transition to full EVs is on the horizon. In the meantime, Honda is focused on reducing harmful greenhouse gas emissions today by introducing hybrid trims for Civic, Accord, and CR-V models. All while simultaneously transitioning to fully-electric vehicles, beginning with the Honda Prologue, a Honda EV that promises zero emissions and endless adventures.
See Morearrow_drop_up
Acura's Ascension to Electrification
The electric revolution has begun. With an all-electric ZDX and ZDX Type S set to launch in 2024 and the Precision EV Concept car that's proving that premium performance can be electrified, Acura is pushing the limits of what's possible and setting the gold standard for electric vehicles.
Discover Morearrow_drop_up
The Electric Motorcycle Revolution
To give customers more eco-conscious choices, we're accelerating the electrification of our motorcycles and introducing 10 new models globally by 2025 – with annual sales projections of 1 million units by 2027 and 3.5 million units by 2030.
Learn Morearrow_drop_up
An Environmentally-Conscious
History in the Making
Since opening its doors in Canada, Honda has always seen engineering through an environmentally-conscious lens, pushing the limits of what's possible while keeping the well-being of future generations in mind.

See Timeline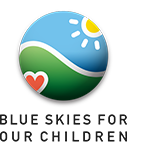 We want Blue Skies for Our Children. It's our vision that future generations experience the joy and freedom of mobility while living in a sustainable society – a vision that drives us to strive to reduce our environmental impact with Honda's wide breadth of green initiatives.
Making a Splash
Cleaner & quieter on the water.
Since 1964, Honda has built only four-stroke outboard motors, which are up to 90% cleaner and 50% more fuel-efficient than two-stroke engines.
Pulling Ahead
A new era in efficient engines.
Our CVCC engine, launched in 1974, allowed us to meet strict emissions standards without the use of a catalytic converter.
Zero to Hero
Minimizing manufacturing impact.
Our Alliston, Ontario manufacturing facility has aimed to achieve zero waste-to-landfill targets since 2007.
Pole Position
Setting the pace for the climate.
Honda Canada and the Honda Canada Foundation have donated more than $2 million to organizations that focus on conservation.
Green Dealers
Driven by a desire to support our dealerships in their efforts to be more environmentally conscious, Honda is proud to introduce the Honda Canada Green Dealer Recognition Program. It's another important step on the road to Blue Skies for our Children.
Take a Lookarrow_drop_up
Paving the way
Honda is committed to reducing our environmental impact to deliver on our vision of Blue Skies for Our Children, building a sustainable society for Canada. We strive to stay at the forefront of environmentally friendly technologies and initiatives in our vehicles, our offices and our communities.
Learn about Blue Skies for Our Childrenarrow_drop_up
Environmentally engineered
Honda's Environmental Statement outlines our responsibility to minimize our impact on the world. From manufacturing processes to our corporate day-to-day, we're guided by four principles in everything we do.
We pledge to…
Recycle and conserve resources at every stage of our products' lifecycle.
Invented by a Honda associate, Intelligent Paint Technology helped cut manufacturing emissions by %.
Charging forward
We're speeding towards a carbon-free society. By 2030, our goal is to have electrified vehicles make up two thirds of our sales worldwide and be an automotive leader in solutions around car pollution.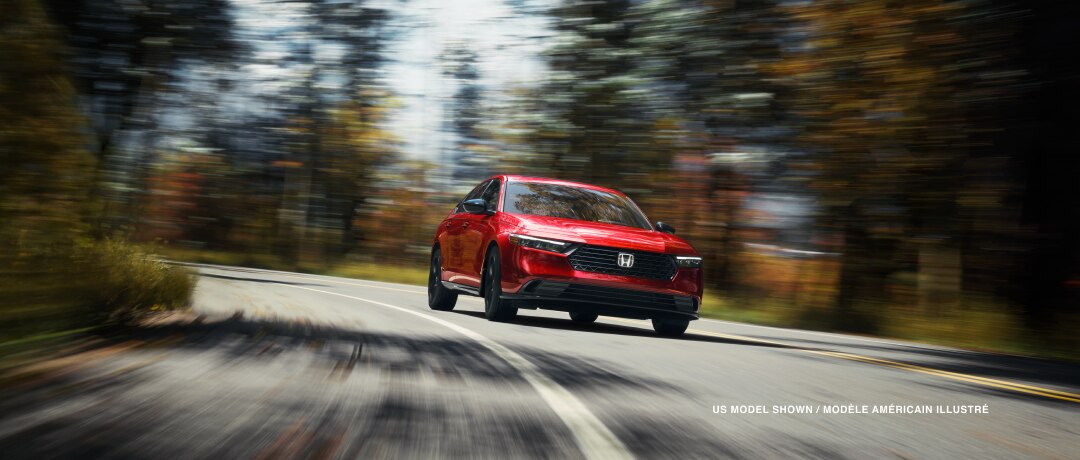 The Power of Hybrids
Take to the streets with confidence with a powerful two-motor hybrid system that delivers a combined fuel consumption rate of 5.3L/100km* and a redesigned look that features a slick new grille and head-turning aluminum-alloy wheels.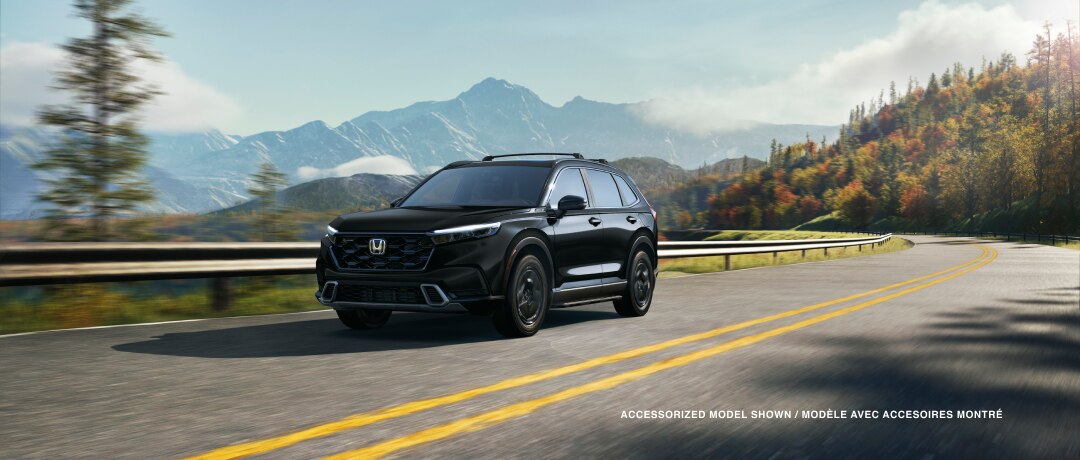 Ahead of the curve
2.0 L, 4-cylinder Atkinson cycle engine coupled with two electric motors that yield a combined fuel consumption rate of 8.1L/100km*. Perforated leather-trimmed seating surfaces. 19" aluminum-alloy wheels. Step into a vehicle that's power, comfort, and fuel efficiency all in one.
Precision crafted footprint
Discover how Acura leverages environmentally efficient technologies to enhance performance, both on the road and in dealerships.
See Howarrow_drop_up
At our Canadian headquarters, we seek to optimize daylight and outdoor views for our employees.
When building our new headquarters in Markham, our goal was to make it the most environmentally-friendly building in the automotive industry. With LEED® Gold Certification criteria as our compass, design decisions were made with environmental sustainability in mind.
Features like a heat-reflective roof to help us stay cool, bioswales for natural filtration that help keep waste out of the sewer system, and irrigation techniques that collect rain to water the grounds help reduce our environmental impact.
Smaller carbon footprint
Honda's office uses up to 33% less energy than typical office buildings its size.
Serious recycling
Nearly all our waste was diverted from landfills in 2022.
Wiser waters
Honda's green initiatives deliver 89% less water use than typical, same-sized offices.
A Greener Future
Honda and the Honda Canada Foundation are committed to supporting a greener future. We partner with charities that bring environmental education to classrooms across Canada. By teaching communities about conservation we're helping create blue skies for our children.
Dig Inarrow_drop_up